Dog & Puppy Feeding Guide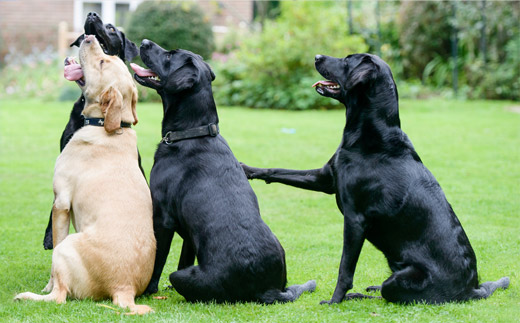 Adult Food
| | |
| --- | --- |
| Weight | Grams per day of food |
| 1 kg – 5kg | 35 – 110 grams |
| 6 kg – 20kg | 110 – 320 grams |
| 20kg – 30kg | 320 – 435 grams |
| 30kg + | 435 + grams |
Puppy Food
| | | | |
| --- | --- | --- | --- |
| Weight | 0 – 12 weeks | 3 – 5 months | 5 – 12 months |
| 1 – 3kg | 40  – 105 grams | 80 – 185 grams | 60 – 100 grams |
| 3 – 5kg | 105 – 160 grams | 185 – 250 grams | 100 – 135 grams |
| 5 – 10kg | 160 – 240 grams | 250 – 400 grams | 135 – 210 grams |
| 10 – 20kg | 240 – 375 grams | 400 – 615 grams | 210 – 325 grams |
Large Breed Puppy Food
| | | | |
| --- | --- | --- | --- |
| Weight | 2 – 6 months | 6 – 12 months | 12 – 24 months |
| 10kg – 20kg | 200 – 600 grams |   |   |
| 20kg – 30kg | | 300 – 500 grams | 300 – 400 grams |
| 30kg – 50kg | | 500 – 700 grams | 400 – 600 grams |
| 50kg – 60kg | | | 600 – 700 grams |
Senior
| | |
| --- | --- |
| Weight | Grams per day |
| 1kg – 5 kg | 10 – 35 grams |
| 5kg – 10kg | 36 – 60 grams |
| 10kg – 15kg | 61 – 80 grams |
| 15kg + | 81grams + |
*Please note that the above measuring guide is only guidelines. Please ensure if you have any concerns about your dog please contact your vet.
**We believe that the best form of scales are your eyes, so if you think your dog is a little podgy cut its food back a little or if it's a little skinny give it a little more.
***Please ensure that there is always a supply of clean, fresh water available for your dog at all times.