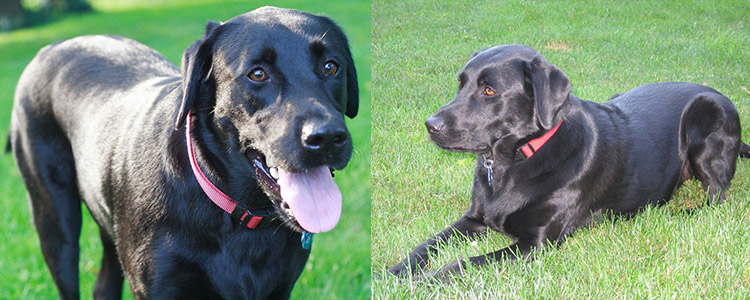 Your dog relies on you to make sure his skin is in great condition and his coat looks fabulously shiny. There is certainly plenty you can do to keep your precious pooch looking and feeling in tip top condition.
Only feed him the best quality food
Feeding your dog a high quality pet food is one of the most important things you can do for him. Not only does it keep his coat looking immaculate but ensures he's healthy on the inside too. Hypoallergenic food is a fantastic way of achieving this – it has been carefully formulated by leading nutritionists to provide exactly the right balance of nutrients to keep your dog in great shape, both inside and out.
Hypoallergenic food contains specific ingredients that help maintain a healthy, shiny coat. Fish and fish oils, such as salmon, contain a naturally high level of omega 3 fatty acids for healthy skin and fur. Similarly, turkey and chicken are great sources of these valuable fatty acids.
Seaweed extract contains iodine, which among other benefits contributes to healthy skin, hair, teeth and nails. Brewers Yeast and garlic are also considered to be effective natural flea repellents. So a balanced diet, containing the right combination of high quality ingredients, will go a long way to making your dog's coat look shiny and feel healthy! Click here to see the Little Chompers range of hypoallergenic dog food.
Give him a bath
It is not advisable to over-bathe your dog – this will strip his coat of natural oils and leave it looking dull. However, a regular bath, depending on coat length and how dirty it is, will help. Adding natural oatmeal can help perk up a dull coat and soothe underlying skin conditions such as itching.
A conditioning shampoo can also be useful in adding softness and shine. Just as we regularly use a hair conditioner, your dog's coat will also benefit from some conditioning.
Groom your dog regularly
Once your dog has been bathed and is feeling fresh and clean, give him a good going-over with a brush. Regular grooming helps to stimulate the hair follicles to produce natural oils and brushing will distribute these oils through the coat, adding a fantastic gloss. Your dog will thank you for it and he will look great!
Provide suitable shelter
If your dog spends a lot of time outdoors, ensure he has suitable protection from the elements. This will not only ensure a healthy coat but keep other ailments at bay too.
If in doubt, visit the vet
If you have changed your dog's food, regularly bathe him and groom him but are still concerned by a dull coat or itchy skin, ask the vet to check them over. It could be a medical condition that needs attention, such as parasites or an infection. Your vet will be able to offer the best advice and treatments to provide your four-legged friend with a clean bill of health.
Social Share